Caribbean curry powder has a completely different taste than Indian curry powder.  Caribbean curry powder usually has a higher concentration of sweet spices like cinnamon, nutmeg, clove and cardamom, with a strong cumin flavor. The two most popular brands of curry powder that Caribbeans use available in the US are Chief & Lalah's Madras Curry Powder, available at Caribbean markets or on Amazon.
Home made curries in India are usually made with whole spices, which are roasted and then ground to a masala powder or paste to make the curry. In the Caribbean, store bought curry powders are more commonly utilized and I have never met anyone who roasts the spices themselves. Here is Caribbean style curry chicken, for those of you who live near a market where you can get these brands of curry powder.
Caribbean Curry Chicken
Serves 8
2 lbs. chicken pieces, cut into bite size pieces
a few sprigs of fresh or dried thyme
1 Scotch Bonnet Pepper
6 tablespoons curry powder
2 tablespoons green seasoning (recipe if you don't have access to the store bought version)
3 tablespoons oil
1 onion, chopped
2 cloves garlic, finely chopped
1 lb. potato, cut into bite size pieces
3 cups water
salt, to taste
Combine chicken, thyme, pepper, green seasoning and 4 tablespoons of the curry powder.
Place in a ziploc bag, seal and shake to coat the chicken well.  Place in refrigerator overnight.
Heat oil.  Add chicken pieces and fry for 3-5 minutes until a little browned.  Remove from pot.
Add onion, garlic and remaining curry powder.  Fry 1-2 minutes, until onions are softened.
Add water and salt and return the chicken pieces to the pot.  Bring to a boil.  Reduce to a simmer and cook for 20 minutes.
Add potatoes and cook another 10-15 minutes, until potatoes are cooked through.
Serve with rice or roti.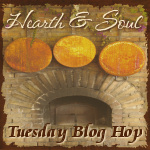 sending to Hearth & Soul
Update: Linking to Simply Food's Flavours of Caribbean hosted by The Spicy Pear
LIKE THIS RECIPE? LEAVE A COMMENT..I LIVE FOR THEM!
Chef Mireille

Sign up for our updates!
Subscribe to get our latest content by email and get your FREE Pantry Cheat Sheet - Learn the basics to cook any International cuisine!